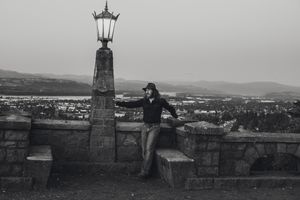 BIO
Sam Cooper creates community with every heartfelt note.  Strangers become fast family, gathered together in music and humor. Feet tap, heads nod, and a shared laugh connects the audience with the performer and with each other.  Banter blurs into interactive conversation. Comedy becomes philosophy and perfectly sets up the next tune. Soon the kindred crowd is an impromptu sing-along chorale, a poly-rhythmic percussion section, or an out-and-out dance party. 
He plays his music the same way he talks to the crowd: with an infectious energy and genuine soul.  The years of experience and hours of preparation are obvious, but the performance never feels rigid or canned.  Indeed, Sam Cooper tends to take a stab at every unpredictable request, and often with surprising success. His deep catalog of original songs is matched with a hefty repertoire of covers and interpretations, ranging from old folk to contemporary pop, classic rock to hip-hop, with lots of country, jazz, and bluegrass blended in. .   
Though he usually takes the stage as a simple guitar slinging singer-songwriter, Cooper has also performed and recorded heavily as a multi-instrumentalist, touring nationally and internationally and contributing to a number of studio albums.  In addition to guitar, he plays keyboards, banjo, mandolin, violin, bass and drums, and has lately diversified his skill-set even further by venturing into the world of audio engineering and production.
These variegated pursuits resulted in 2013's Long Lost Love, featuring Cooper on a laundry list of instruments, accompanied only by drummer Nick Werth (Galaxe, Yak Attack).  The album takes the listener on a wistful and whimsical tour of the American West, exploring emotional landscapes shaped by romantic and artistic passion, and tempered with graceful acceptance.  
Sonically, Cooper's soon to be released new album Still We Try mostly resides in the same naturalistic setting as Long Lost Love, though it is decidedly more propulsive and polished.  Lyrically, Still We Try delves into the spiritual struggles that resonate in the age of catastrophic climate change, and also into the power of choice that we as individuals and as a society have to make changes for the better and to continue ascending whatever mountains we find before us.